Mystic Goddess

* Divination

Since the earliest times in all known civilizations, man has looked to supernatural sources for guidance. Divining is one of the oldest and most persistent human acts. There is virtually no human culture that has not used divination. Divination is considered to be a "lumen" or light added to our normal intelligence. It is used to identify the hidden forces at work in a situation and to suggest strategies to deal with them. The many varieties of divination, from the simple to the most complex, act as a helping spirit, enabling us to navigate the journey of our lives. They give a voice to the world of the imagination and the mythic beings who inhabit it. The world you meet through divination is full of imaginative forces with attributes, powers, desires, and needs that are creating what we experience. Divination is the act of determining information obtained from signs, omens, dreams, visions and divinatory tools.
The Crystal Ball
The crystal ball is one of the most potent avenues to higher
states of consciousness. Their use in healing, activating
creativity, foretelling the future and balancing the human energy
system are timeless. Through the crystal ball you can access
your creative essence, reduce stress, solve problems, find lost
objects, explore the mysteries of the universe and project
personal energy. You can enhance your spiritual experience
by adding candles, aromas and sounds.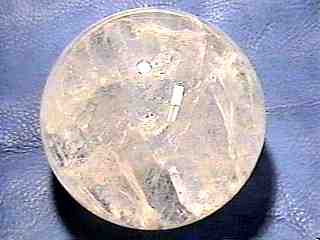 Scrying
The Ancient art of clairvoyance achieved by concentrating on an object - usually one with a reflective or semi-reflective surface (mirror, crystal ball, water, etc.) - until visions appear. The term scrying comes from the English word "descray", which means "to perceive", "to reveal" or "to see". More than any other method, gazing instills simultaneously a sense of wonder, a sense of excitement and a sense of fear.. It stirs primal memories and instinctive responses to the universe and all that affects us through it. It can be used for self-discovery, clarification, new perspectives, accessing hidden knowledge, past and/or future and answers to questions.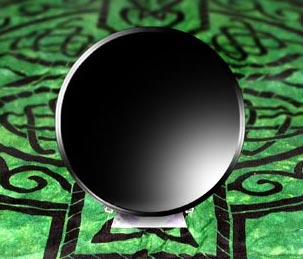 The Pendulum
The pendulum is a communication device between the conscious and the subconscious mind. Successful use of a pendulum is a matter of establishing a clear, precise and consistent language between the two parts of the mind. With practice, you can use a pendulum and pendulum charts for accurate decision-making and effective problem-solving. Find answers that will save you time, create more success and increase your well being.
Pendulum Workbook by Markus Schirner $14.99
Knowing your Intuitive Mind, Pendulum Chart Book by Dale Olson $15.99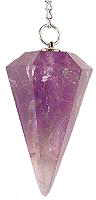 The Dowsing Rod
One of the fascinating things about dowsing is that virtually everyone can do it,
provided they are prepared to suspend disbelief.
Dowsing can be described as divining for something that is desired.
You can find missing people or lost objects.
You can divine for anything you want, be it oil, water, gold,
lead, or even ancient ruins.
Set of 15 inch Divining Rods for Dowsing $22.00

The I Ching
The ancient Chinese oracle, the I Ching, helps you work with the changes in your life. It is one of the world's oldest and most profound divination systems. It's images and practical advice let you participate in change instead of being it's victim. It can resolve fears and uncertainties on everyday problems. It gives spirit a voice in your everyday life. Although many traditionalists throw yarrow stalks to arrive at the necessary hexagrams of interpretation, I Ching coins are also used by many. Cards/Coins $15.00
The I Ching, Book of Changes and how to use it, by WU WEI Book and Yarrow Stalks $18.99
Chinese Fortune IChing Cards $24.99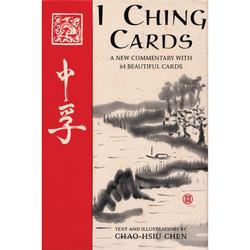 The Angelboard
The Angelboard is a tool intended to guide you toward your ideals,
spiritual growth and your life's purpose.
The Angelboard is an 18" square board with the alphabet, numbers 0-9 and a Yes & No.
It has a planchette (pointer) on which you gently place your fingertips
to move it around the board as your message from your Angel is revealed.
You could use the Angelboard by yourself or with others.
You may want to inquire about a relationship, career, business investments,
relocation, or any topic used in other forms of divination.
The Angel's reply will always be instructive and empowering.
Angelboard $39.00
The Psychic Circle
The Magical Message Board! On the board are 20 key words, 11 colors and 40 universal symbols, in addition to the letters of the alphabet and the numbers 0-9. It may use any of them - either individually or in combination - to create detailed and insightful answers to your every question. You may address the board alone or with a partner. The board is sure to help you with your intuition and decision-making ability. $25.00

The Pathfinder
"Psychic Talking Board" Find your path to love, career and success with The Pathfinder. It has an 18" square board with a magical message indicator for your fingertips. It is designed to empower you with shamanic wisdom. The board has 36 key words, 12 power animals, 11 sacred stones, 12 plant helpers, 12 dream symbols, numbers 0-9, and the letters of the alphabet. It can help you with your spiritual development and show you how you could help others. Ask the Pathfinder anything you would like to know about. $25.00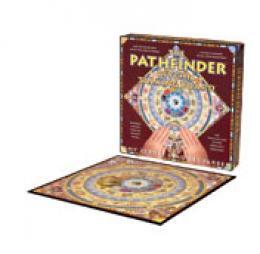 The Rune Set
Runes are a magical alphabet of 25 symbols used for healing, divination and in a variety of charms and invocations. According to myth, the
runes were created by Norse God Odin. Runic symbols have been discovered in rock carvings and dating back to prehistoric Neolithic and bronze ages. Runes are now seeing a popular resurgence among serious magicians, and can be used for all magical purposes. Each runic symbol contains an elemental which corresponds to a god or a natural power. They possess clarity and definition. $29.99 - $99.99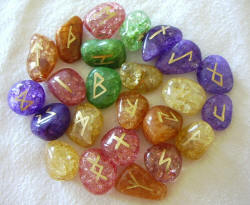 Monthly Astrological Forecasts

Read your monthly astrological forecast and other important astrological and planetary trends.
We invite you to visit us at: 7500 Ulmerton Rd. #17, Largo, Fl. 33771
For information or ordering, Call: (727) 530-9994
or please email us at: mgoddess@tampabay.rr.com
Judith (Judie) DiMilta Proprietor
Items at this on-line store are shown as curios. We make no claims nor guarantee any magical or supernatural powers for any item. The names and assumed powers are derived from books, folklore and various other sources. The information provided is for educational purposes only and is not intended as diagnosis, treatment, or prescription of any kind. The decision to use, or not to use, any information is the sole responsibility of the reader. This information is not intended to be a substitute for professional medical advice. You should not use this information to diagnose or treat a health problem or disease without consulting with a qualified healthcare provider. Please consult your healthcare provider with any questions or concerns you may have regarding your condition.