Mystic Goddess

* Feng Shui


Feng Shui
Wind &
Water
Feng Shui, (pronounced fung shway) which translates to "the wind and the water," is the Chinese art of correct placement. Practitioners believe that by arranging our furnishings and decor in a way that aligns with nature, we draw harmony and good health into our lives. According to this ancient philosophy, the placement of everything from the front door to the toilet plays in our overall well being. The Chinese actually employ a Feng Shui master before building or buying a home or business. Most Feng Shui experts stress the use of aesthetics and common sense in achieving the desired results.

Is there a favorite room or spot in your home or business to which everyone seems to gravitate? What about an area that looked promising when you took the space, but turned out to be unused or uncomfortable to be in? Is your business prospering, or is your money going out, not coming in? These situations, can be solved using the art and science of ancient Chinese Feng Shui principles. We often hear the saying "as goes our environment, so we go." Feng Shui teaches us how to create harmony and balance around us. By taking a hard look around and opening up our environment to healthy energy (Chi), we can make changes in our work and living space that will create corresponding changes in our life.

The first key concept one needs to understand is Chi, the living energy that flows through all things in the physical world. Every physical thing, buildings, rocks, plants and land carry their own Chi qualities. Chi is vital energy that connects and moves everything.
Chinese Zodiac Forecast for the Year of the OX
New in 2008, This Almanac is a MUST!

Feng Shui Almanac 2009 $10.80
This fully illustrated feng shui guide has been specially designed to enhance your full potential in 2009, the year of the EARTH OX. It uses the traditional Chinese calendar to assist you in selecting the best and most auspicious days & times for activities and events such as weddings, renovations, travelling, opening a business and more. This almanac includes auspicious and inauspicious activities, daily earthly branch and conflict animal, and good, average and unlucky hours.
Power-packed with practical application tips and frequently used tables and charts, this feng shui almanac will prove to be your indispensable desktop companion. Featuring auspicious DATES and TIMES for scheduling important events plus 12 pages of MASTER FORMULAS, SPECIAL RITUALS, handy FENG SHUI TIPS, Flying Stars, 24 Mountain indications according to the CHINESE ALMANAC and more!
These are Great!

"NEW" Fortune & Feng Shui
By Lillian and Jennifer Too
$10.99
This book brings detailed personalized readings of luck prospects and horoscopes for 2009. Here are the year's insights and the monthly readings on what to expect in terms of career, business, health, love and relationships. There are important new tips on how to suppress the year's afflictions and how to enhance your personalized feng shui. This book helps to instantly improve your vitality and chi essence, empower your aura with invaluable new secrets and enhance your surroundings to maximize 2009's exciting prosperity potential.
This book contains detailed readings on
The kind of luck the year brings you
Tracking your luck from month to month
Opportunities for increasing incomes
Expanding career mobility
Attracting love and a lasting soul mate
Suppressing 2009's feng shui afflictions
Substantially improving you wealth
Enhancing your personalized feng
Three-Footed Wealth Toad
$10.00 - $29.99

This famous Toad with the coin in his mouth increases your prosperity! Our handsome specimen is lovingly festooned with Swarovski crystals which shine forth from his eyes and adorn his warty back. He sits upon a mound of coins and ingots, protecting your wealth. Gently place him inside your home next to the front door (on the floor where Toads belong), and position him looking into the room. The base measures 4.5" x 5". Nicely boxed, a good-sized, hefty "Money Frog."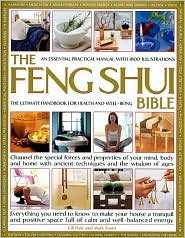 Feng Shui Bible $29.95
By Gill Hale & Mark Evans
The book applies the principles of Feng Shui not only to every room in the home, but also to work spaces, gardens and even our cars, making this a highly comprehensive study of the art.
Chinese Characters

Available in several sizes.
$19.95 thru $49.95
Prosperity
Long Life
Joy & Happiness
Good Luck

Bagua Mirror
4" $6.00 5" $8.00 6" $10.00
Frequently, Feng Shui practitioners in America utilize mirrors as a cure. We consistently see mirrors being used upon the recommendation of a prior "master." According to one web site, "Mirrors are known to be the aspirin of Feng Shui"
Some of Our Favorite Books:

Complete Illustrated Guide to Feng Shui
By Lillian Too $29.95
How to Apply the Secrets of Chinese Wisdom for Health, Wealth and Happiness. Written in collaboration with Feng Shui Master Yap Chen Hai, this is a fully illustrated advanced manual on Water Feng Shui. In this book, Lillian Too reveals the secrets of the Water Dragon Classic and shows you how to do-it-yourself. When precisely oriented and built in accordance with Feng Shui calculations, the correct flow of water brings you great abundance of money and wealth luck.

Feng Shui Bible
By Simon Brown $14.95
The Feng Shui Bible brings all the strands of this ancient practice into one simple, useable reference - the opening section explains the key concepts of feng shui, chi energy, yin and yang, the five elements and eight trigrams, and illustrates them with real life applications and examples. It also details the basic tools of feng shui - everyday objects like mirrors, plants, and fountains that help the energy in any space flow more easily.

THE COMPLETE ILLUSTRATED GUIDE to FENG SHUI FOR GARDENS $21.99
By Lillian Too
Combines the popularity of gardening with the power of Feng Shui. Fully illustrated with specially commissioned photographs, drawings and 3-D models. The perfect companion to the Complete Illustrated Guide to Feng Shui.
Irresistible Feng Shui Magic : Magic and Rituals for Love, Success and Happiness By Lillian Too $19.95
Learn how to use Chinese Dragon Magic to achieve success by releasing wish balloons to the sky dragons, or invoking dragon protection with talismans and amulets. Overcome bad luck when you travel with simple 10-minutes rituals to activate powerful element magic.
In this exciting new book, Lillian Too reveals the closely guarded secret of how to create your own potent wealth vase. She shares ancient knowledge of Taoist alchemy for your relationships, teaching you how to capture moon energy for marriage magic or use crystal balls to smooth the path of love. You will master the magic of bells and bowls before moving on to powerful bathing and meditation rituals to help you connect with the spiritual being inside you.
EASY-TO-USE FENG SHUI $19.95
By Lillian Too
This unique problem-solver introduces 168 of her favorite tips for success in every area of your life, from your home and relationships to your image, well-being and career. Lillian's personal tips include practical advice on harnessing the positive energy of your home and garden, using crystals to attract romance and simple steps to running a successful business and gaining control of your working life. This beautifully illustrated guide provides all the information you need to enhance your personal surroundings and ultimately enjoy great health, wealth and happiness.
EASY-TO-USE FENG SHUI FOR LOVE $19.95
By Lillian Too
In a similar format to the wildly successful Lillian Too's Easy-To-Use Feng Shui, this book comes packed full of useful tips to enhance love in all situations... marriage love, new love, filial love... It is also beautifully illustrated in full color, with specially commissioned diagrams and drawings.
Clear Your Clutter with Feng Shui $10.95
Free Yourself from Physical, Mental, Emotional and Spiritual Clutter Forever By: Keren Kingston
Clutter is stuck energy that has far-reaching effects physically, mentally, emotionally and spiritually. The simple act of clearing clutter can transform your life by releasing negative emotions, generating energy, and allowing you to create space in your life for the things you want to achieve. Elevates clearing clutter from a mundane task to an experience of the sublime. A great book and long overdue.
CREATING ABUNDANCE WITH FENG SHUI $19.95
By Lillian Too
Unusual and profoundly life changing, this fascinating book shows you how to become increasingly sensitive to the world around you - and how to surround yourself with the happiness and abundance you deserve.
Move Your Stuff, Change Your Life $13.00
By Karen Rauch Carter
How to Use Feng Shui to Get Love, Money, Respect and Happiness. This book is written in plain and simple English for the modern western reader. Revealinf the ancient Chinese secrets that are as useful and necessary today as they have been for centuries.

Three-Footed Wealth Toad $12.00

This famous Toad with the coin in his mouth increases your prosperity! Our handsome specimen is lovingly festooned with Swarovski crystals which shine forth from his eyes and adorn his warty back. He sits upon a mound of coins and ingots, protecting your wealth. Gently place him inside your home next to the front door (on the floor where Toads belong), and position him looking into the room.
The base measures 3" x 3".
We invite you to visit us at: 7500 Ulmerton Rd. #17, Largo, Fl. 33771 For information or ordering, Call: (727) 530-9994
or please email us at: mgoddess@tampabay.rr.com
Judith (Judie) DiMilta Proprietor


Items at this on-line store are shown as curios. We make no claims nor guarantee any magical or supernatural powers for any item. The names and assumed powers are derived from books, folklore and various other sources. The information provided is for educational purposes only and is not intended as diagnosis, treatment, or prescription of any kind. The decision to use, or not to use, any information is the sole responsibility of the reader. This information is not intended to be a substitute for professional medical advice. You should not use this information to diagnose or treat a health problem or disease without consulting with a qualified healthcare provider. Please consult your healthcare provider with any questions or concerns you may have regarding your condition.